Well, hey, there, sweet readers! I haven't been quite in the mood to post lately.
Not sure why, just kind of burned out. There is a lot of stuff going on.
First, if you wouldn't mind, please add me to your prayers, good karam list, and positive thinking thoughts because I had my MRI today on my hip.
I find out next Wednesday whether it's a surgical fix or something else. Gulp.
Next, I am on day 9 of Yeast Free.
I cheated twice.
There, I said it. I had a vodka soda on Friday, and part of a cupcake yesterday during our Employee Appreciation celebration.
I really felt yucky after that cupcake though, so I've learned my lesson. So far, according to le scale, I've lost 5 pounds. I don't know if that is just water weight or day-to day fluctuation, but I'll take it. I feel a million times better-more awake, no tummy problems. Nice.
Now, on to the festivities.
My birthday is this Friday. The big 33. In honor of said day, I was really excited to see this link-up.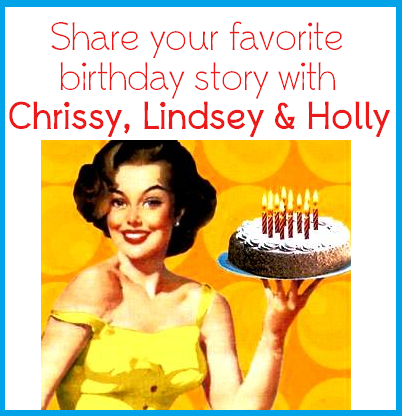 I've had plenty of memorable birthdays, and birthdays that were just so-so.
My favorite birthday is the one that I almost don't remember.
My 30th-It started out harmless.
A nice trip to Savannah.
We left on a Friday night, had dinner at Kevin Barry's, and basically called it an early night.
We wandered all around day Saturday, thoroughly enjoying the ability to tote drinks on the street.
There really is nothing like having an all-day beer buzz.
Started the day at Molly McPherson's.
We watched an old black man wail on Otis Redding's "Sitting on the Dock of the Bay."
I can't tell you how amazing he was, and I didn't get a photo. But he was just incredible.
We had dinner on one of those hokey dinner cruises.
And continued drinking, this time the high test stuff: Firefly and water.
When we got back on dry land,
we went bar hopping.
Made friends with whoever we could
-because we're chatty when inebriated.
Steve got kicked out of a bar.
In his defense, his flip flop caught the lip of the concrete floor and he tripped...right in front of some cops.
They were't really looking for an excuse, so we just left.
Someone took our pictures on the stairs up from Bay Street.
We don't remember that at all.
We got lost and couldn't find our bed and breakfast.
Once we finally did find the place, we crashed hard.
And woke up 5 minutes before check out.
That was the worst hangover I had ever had. EVER.
Even more than the one in Vegas when we slept through the entire Thanksgiving day.
Not even McDonald's fries could save me that day.
It was great.
I'd show you more pictures, but well, I forgot to take them.